Aplô Lamp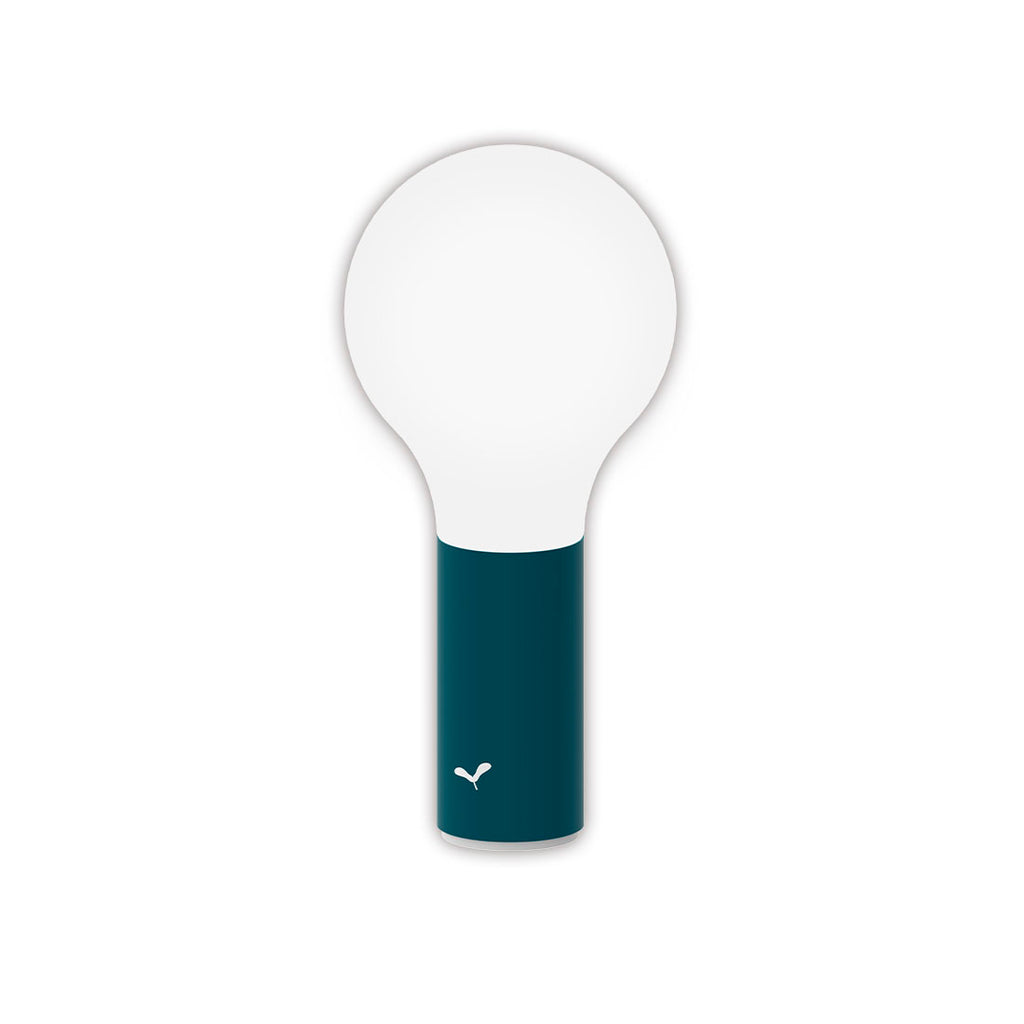 The Fermob Aplô is no ordinary wireless, battery-operated lamp: it's a fully fledged lighting concept. This portable lamp is packed with creative and ingenious qualities. And combined with its clever accessories, it offers a multitude of lighting solutions. Its light bulb-style design is both an obvious choice and a nod to the ideogram that symbolises bright ideas. Designed by Tristan Lohner, it's an on-trend piece with smart features that looks like something straight out of a comic book. "Got a bright idea?" With Aplô, it's as simple as that!
View the full Aplô Collection to shop available accessories
---
Polyethylene diffuser
Aluminium frame
Lighting intensity : 2 warm white (100% & 50%) + 2 cool white (100% & 50%) + OFF
T° colour : 1 warm white (3000°K) and 1 cool white (6000°K)
Technology:
Integrated LED
Power (Watts) : 0.5 W
Luminous flux : 70 lm
Min. Battery life : 7 h
Max. : 15 h
Rechargeable : 3 h
Type of power supply : battery
Cable (supplied) : 1 m
Controlled with switch
Bypass to prevent battery damage during wired use
Ingress protection : IP54
Impact resistance : IK 10
CE standard : Yes
FCC standard : Yes
Powered by Smart & Green
The Aplô lighting concept is all about ripping up the rulebook. The H.24 lamp is a true chameleon, masquerading in turn as a torch, a decorative lamp, a table or floor lamp, a hanging lamp and even a wall light. Designed to be user-friendly and intuitive, this wireless lamp offers versatility for every occasion – and for every time of day.
The Aplô outdoor lamp is packed with know-how. Behind its gentle, playful design lies a powerful 70 Lm LED light with two brightness settings (50% and 100%) and two colour temperature options: cool white (6000°K) and warm white (3000°K). So you can create the ambience that suits your mood, no matter what the time of day. And when it comes to battery life, you can rest easy because the Aplô H.24 lamp operates for 7-15 hours between charges, keeping you illuminated well into the night. This mobile lamp is designed for outdoor use. With an aluminium frame, 100% polyester anti-UV powder coating and polyethylene globe.
This lamp has it all.
Fermob item number: 3410
Dimensions: 10"H X Ø4.5"
Weight: 0.82lbs
Technical Specifications: download pdf
Category: Fermob Furniture
made in France
---