Aplô Wall Bracket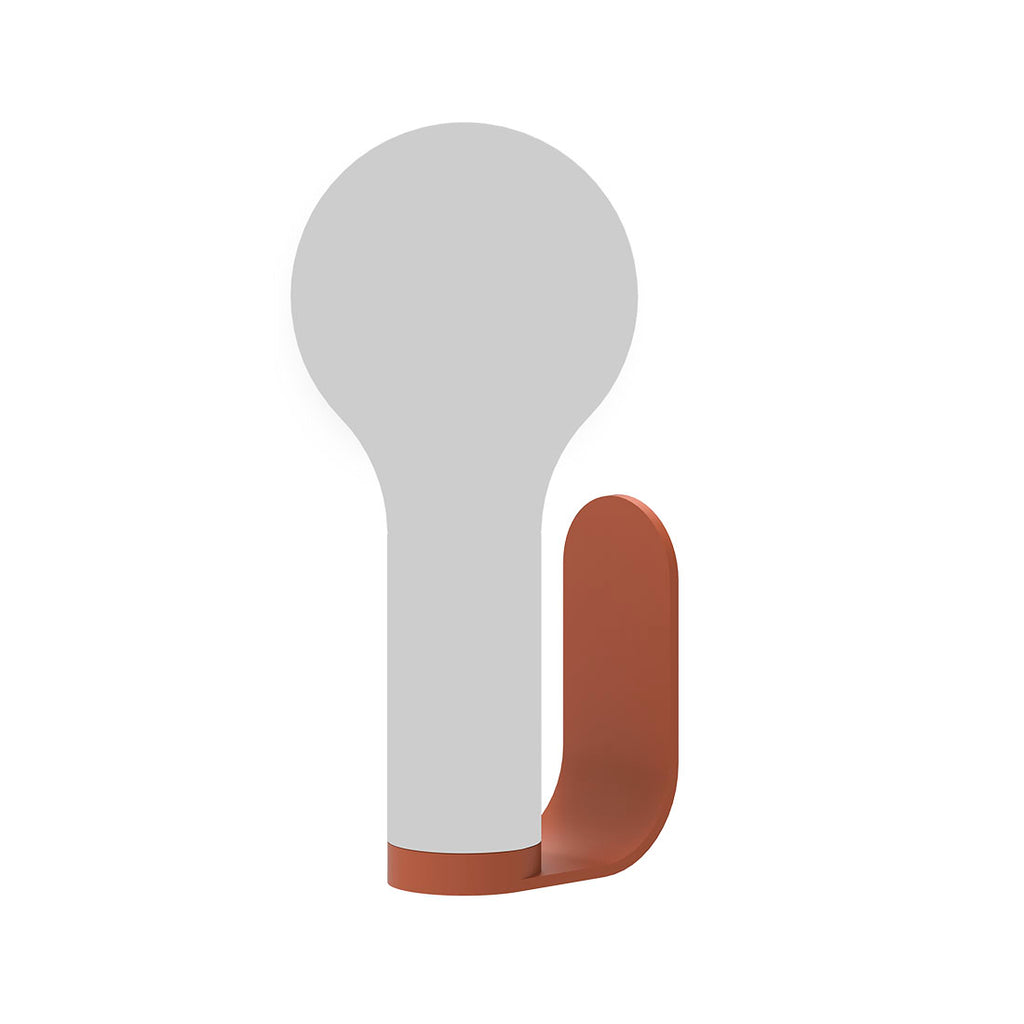 The Fermob Aplô Lamp (sold separately) is a mobile piece that comes with a range of versatile accessories. Used alone, it serves as a floor or table lamp, or even a torch. Add this clever wall light bracket, and it becomes something entirely different! All it takes is a quarter turn to transform Aplô into a wall light (or several wall lights!) for your balcony or corridor. Designed by Tristan Lohner, it's an on-trend piece with smart features that looks like something straight out of a comic book. "Got a bright idea?" With Aplô, it's as simple as that!
---
As with all Fermob products, Aplô is all about understated yet great-looking design. That's why the wall light bracket is made to be as discreet as possible. The invisible fixing bracket attaches to the wall with double-sided adhesive tape (supplied) or with screws (not supplied). The aluminium frame is available in the same tones as the Aplô H.24 lamp – so it either blends into the background or serves as a colourful, decorative feature in its own right. The choice is yours! And in keeping with the brand's other products, great design and sturdy build quality go hand in hand. Made from aluminium and treated with a 100% polyester powder coating, this accessory is made to live outdoors!
Aluminium
Plastic piece on the back for invisible wall hanging (vertical position)
Fixes to the wall with screws (not supplied) or double-sided adhesive (supplied - recommended for smooth surfaces only)
Lamp screwed to the base with "quarter turn" system
The Aplô lighting concept is all about ripping up the rulebook. The H.24 lamp is a true chameleon, masquerading in turn as a torch, a decorative lamp, a table or floor lamp, a hanging lamp and even a wall light. Designed to be user-friendly and intuitive, this wireless lamp offers versatility for every occasion – and for every time of day.
The Aplô outdoor lamp is packed with know-how. Behind its gentle, playful design lies a powerful 70 Lm LED light with two brightness settings (50% and 100%) and two colour temperature options: cool white (6000°K) and warm white (3000°K). So you can create the ambience that suits your mood, no matter what the time of day. And when it comes to battery life, you can rest easy because the Aplô H.24 lamp operates for 7-15 hours between charges, keeping you illuminated well into the night. This mobile lamp is designed for outdoor use. With an aluminium frame, 100% polyester anti-UV powder coating and polyethylene globe.
This lamp has it all.
Fermob item number: 3460
Dimensions: 5"H x 2"W
Weight: 0.29lbs
Technical Specifications: download pdf
Category: Fermob Furniture
made in France
---